At the Culinary Institute of Israel, you'll take your cooking skills to the next level with
theoretical and practical lessons of the Israeli, Arab, Middle Eastern and Mediterranean culinary world and the large hotel kitchens in Tel Aviv. Classes are taught at Ort Israel's Dan Gourmet Culinary Arts school. Among the professional culinary skills you'll learn are:
Global cuisines: Middle Eastern, Mediterranean, Italian, Arab, Traditional Jewish foods, Kosher Cooking, Desserts & Pastry
Wines & Alcohol
Kosher kitchen cooking
and more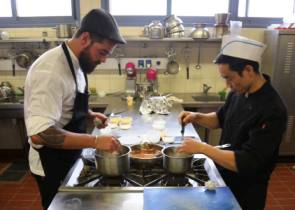 Locations
Tel Aviv-Yafo
Address
Tel Aviv-Yafo
,
Tel Aviv District
,
Israel
Programmes
Currently no programs to display
Please refine search above, check out our popular categories below or perform a keyword search.
... or simply by choosing your degree: