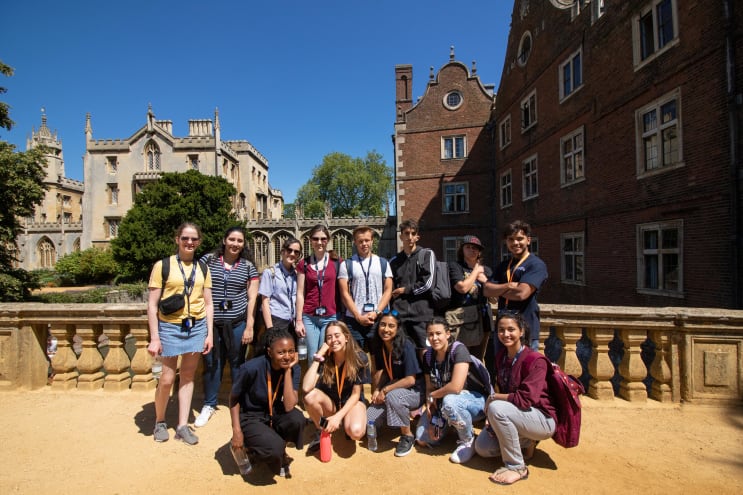 Overview
An unparalleled educational experience held in the historic university city of Cambridge
Session 1: 28th June - 11th July
Session 2: 5th July - 18th July
Session 3: 12th July - 25th July
Session 4: 19th July - 1st August
Session 5: 26th July - 8th August
Session 6: 2nd August - 15th August
Session 7: 9th August - 22nd August
Immerse Education is a two-week residential academic programme with a diverse and enriching curriculum, designed for 13-18-year-old students – providing a taster of what it's like to study a subject at a higher level.
Tutorials and seminars are designed and taught by expert tutors in an optimal learning environment that stimulates academic enquiry. And our carefully planned schedule ensures that the programme not only meets the academic needs of the participants but also provides a unique experience of the university city through an abundance of extracurricular activities.
Students reside in one of central Cambridge's largest and most beautiful university colleges. Within the college's historic walls, we pride ourselves on providing unique experiences of leadership and academic excellence through an inspirational programme for participants.
With its diverse and enriching curriculum, the programme allows students to explore and further their knowledge of a chosen subject in an unrivalled academic environment.
Students emerge more confident and ready to articulate what they have learnt, with knowledge of their chosen fields that provides unparalleled academic insights – and, of course, many unforgettable memories along the way.
Exceptional teaching
We offer participants a choice of a range of subjects, from the arts to the sciences. All the subjects taught at Immerse are taught by current or past tutors of Cambridge University or Oxford University. Our rigorous vetting process ensures that all students are taught by tutors who are engaging and supportive - and most of all, enthusiastic to share their expertise.
Our philosophy is that our participants should be challenged with interesting academic concepts; whilst our tutors create a welcoming and supportive environment in which our participants feel comfortable and thrive.
You will be encouraged to delve into and explore the current debates and issues within your chosen discipline in carefully planned tutorials that emulate the unique Oxbridge system of tutor-student engagement and debate. This is an approach that goes beyond the superficial and provides unique insights that are both refreshing and intellectually stimulating.
What is certain is that you will emerge undoubtedly far more confident and knowledgeable in your chosen discipline, tackling challenging yet interesting topics that we hope will further your academic passions. Students can now opt to study up to two subjects during the programme. Subjects that we offer include:
Medicine
Law
Engineering
Physics
Mathematics
Chemistry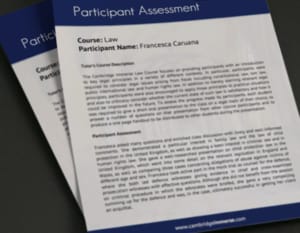 Participant Assessments
Throughout the programme, our tutors monitor student engagement with the topics that they have been taught. After the programme, a Participant Assessment is written by the tutor, evaluating participant progress and also making recommendations on how to most effectively advance participant's understanding and interest in the topics that have been explored.
Interview Skills Workshops (Optional)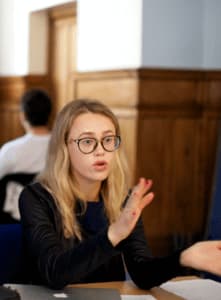 Within our carefully designed interview skills workshops, students will gain an insight into the core skills required to successfully articulate their viewpoints in a pressured environment. These workshops focus upon developing the confidence and intellectual tenacity required to tackle some of the key questions that might be asked during the interview, in addition to addressing debates surrounding some of the most pertinent issues within the discipline at the moment. The Interview Skills workshops are included in the programme fee, though attendance is optional.
Personal Statement Consultations (Optional)
Over the duration of the Immerse programme, students will have the opportunity to develop drafts of their personal statements required for access to universities across the world with the expertise and assistance of highly regarded tutors. Students learn techniques to concisely express their interest in a particular discipline, crafting a compelling personal statement that showcases achievements and interest in a subject. The Personal Statement consultations are included in the programme fee, though attendance is optional.
Extracurricular diversity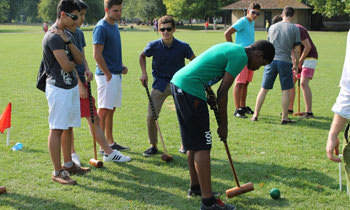 Immerse provides a truly immersive experience of university life. Not only will you discover and further your academic interests, you will also delve into the exciting and often fascinating spectrum of cultural activities available in Cambridge. The opportunity to experience daily organised excursions also allows the chance to socialise with like-minded peers from a diverse range of backgrounds and to quickly familiarise yourself with the city.
Activities organised as part of the programme include:
A summer's afternoon punting down the River Cam, a quintessential Cambridge affair.
A day trip to Oxford, the home of Cambridge University's arch 'rival'.
Formal dining in Cambridge's famous medieval banquet halls.
Visit our activities page to view the full range of subjects that we offer.
Timetable
The Immerse schedule is packed with a wide range of unique academic and extracurricular activities.
Participants start off the day with breakfast in the main college dining hall, with a variety of continental and hot breakfast choices available. This is followed by the first academic session of the day, which takes place in a seminar or lecture format.
Participants are then guided to lunch at some of Cambridge's finest sandwich bars and cafés and are welcome to explore the city in small groups. Following lunch, academic sessions continue in the format of small tutorial groups or workshops.
After all the core academic sessions are finished, students are treated to one of a wide range of excursions and cultural activities, including punting, museum visits and sports activities. A three-course dinner in the college dining hall is then followed by an evening social event to help participants wind down and socialise after a packed day.
The timetable shown on the side offers an insight into the typical daily schedule, although this may vary depending on the events planned on the given day.

A typical day...
Start the day with either a continental or cooked breakfast in the college dining hall. A wide variety of breakfast items helps participants prepare for the challenging day ahead.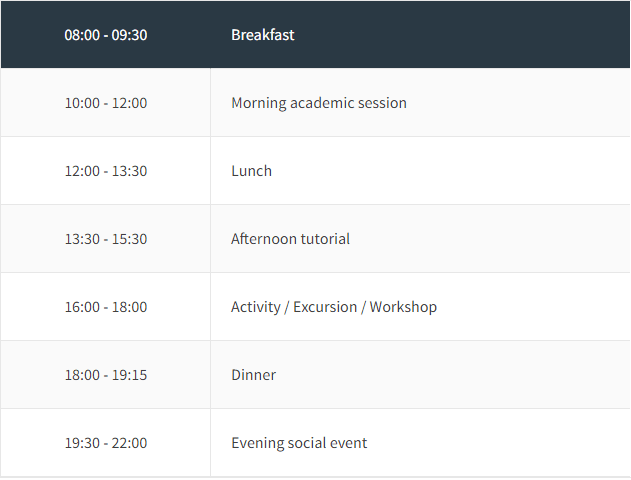 Unrivalled support system
We place a huge emphasis on creating a supportive and approachable environment at Immerse. Our mentors are a team of friendly, specially trained graduates and undergraduates from Cambridge University, who help our participants quickly settle into the programme.
The mentors have the first-hand experience with a variety of academic and non-academic issues and are therefore in the best position to offer friendly, confidential one-to-one advice. It's an unrivalled support network that we're incredibly proud of.
Mentors have studied a range of disciplines, allowing them to share their own insights and experiences of their academic careers. Each participant is also assigned a mentor, at a ratio of six students to one mentor, all of whom are enthusiastic to help participants to help create a 'home away from home'.
Accommodation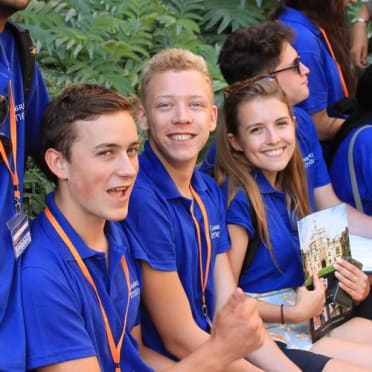 Immerse takes place in Cambridge University's most stunning and historic centrally located colleges. To find out which college you will be accommodated in, contact us.
All participants will be accommodated in their own individual bedrooms, equipped with high-speed internet access. Corridors or staircases separate male and female students, and bathrooms are en-suite or shared between just a few participants. The college site is secured and monitored at all times. Visit our 'Campus' page for further information.
Practical Information
Travel Information:
The fee for Immerse is not inclusive of travel to Cambridge. There are several transport options available, including arriving in Cambridge by rail, coach or flight. Please contact us if you need assistance planning your journey to Cambridge.
For international participants, we arrange a shared airport transfer service from London Heathrow Airport to Cambridge. Dedicated staff members meet the participants at the airport terminal of their arrival. Participants are able to book this service once they have secured their place in the programme.
Medical and Dietary Requirements:
We are able to cater for most dietary requirements (vegetarian, vegan, nut allergies, halal, kosher); please do not hesitate to contact us if you are unsure if we can cater for your dietary requirements. Breakfast and evening meals are included in Immerse, and participants are expected to make their own provisions for lunch at various delicious eateries around Cambridge.
Other information:
Students must be aged between 13-18 at the time of attendance in 2019. Students are expected to be fluent / near-fluent in English.
Participate in 2019
Immerse is a residential summer course consisting of outstanding academic classes, excellent skills workshops and exciting extracurricular activities in the historic university city of Cambridge. Immerse runs in the following 2-week sessions:
Session 1: 7th July - 20th July 2019
Session 2: 21st July – 3rd August 2019
Session 3: 28th July – 10th August 2019
Session 4: 4th August - 17th August 2019
Session 5: 11th August - 24th August 2019
We would be happy to assist you if you have any questions prior to booking your place.
Locations
Cambridge
Cambridge Immerse
Address
Cambridge Immerse
23 King Street
Cambridge
CB1 1AH

United Kingdom
Cambridge
,
England
,
United Kingdom
London
Address
Royal Hospital School, Suffolk
IP9 2RX
London
,
England
,
United Kingdom
Programmes
This school also offers: