As the UK's longest established independent cookery school, Tante Marie Culinary Academy has developed an internationally acclaimed reputation for excellence. Graduates of our Cordon Bleu Diploma qualification and professional chef courses enjoy successful careers in food all around the world. These alumni have put Tante Marie on the map as a leading cookery school and the combination of our Cordon Bleu Diploma and the CTH Level 4 Diploma in Professional Culinary Arts means Tante Marie graduates have the world at their feet as they progress into successful careers in food. As well as our professional cookery courses, Tante Marie Culinary Academy offers a wide range of inspirational Lifestyle Courses which include weekend, evening and children's cookery classes – all taught by our Academy teachers in our state of the art kitchens. The award-winning Restaurant at Tante Marie gives graduates of our Cordon Bleu Diploma a platform to showcase their newly achieved professional cooking skills whilst undertaking a paid apprenticeship, working towards a hospitality management qualification. Members of the public can experience the very best of Tante Marie food in a relaxed and sophisticated environment.
A RICH HERITAGE
TRAINING THE WORLD'S TOP CHEFS Tante Marie School of Cookery was founded in 1954 by the acclaimed cookery writer Iris Syrett in Woking, Surrey. The school is named after Ann-Marie Taride the author of the 1925 French culinary bible, 'La Veritable Cuisine de Famille' – Tante Marie is her pseudonym. In 1967 Tante Marie School of Cookery was building momentum and moved into Woodham House on the Outskirts of Woking. It remained there until January 2015 when Tante Marie Culinary Academy opened its doors to its current position in the centre of Woking – continuing to provide top-class chef training and cookery classes to those passionate about food.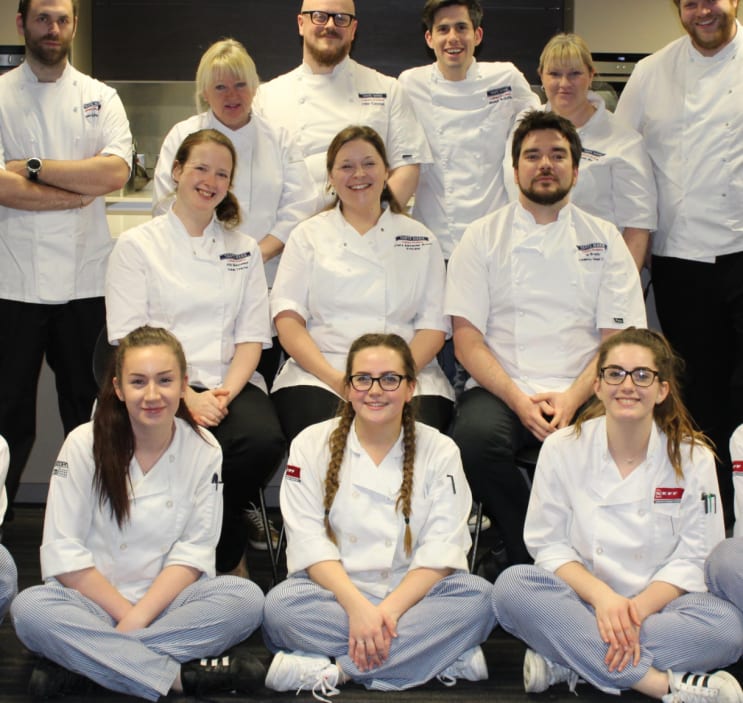 Over 60 years Tante Marie Culinary Academy has achieved an internationally acclaimed reputation for excellence in culinary training. We are focused entirely on teaching practical cooking skills in our supportive and fun cookery school, whilst ensuring our students develop the high levels of skill and discipline required to cook beautiful food to the highest standards.
Our Facilities
Tante Marie Culinary Academy and Restaurant are just a 1-minute walk from Woking train station, just 20 minutes from central London. The Academy's central, town centre location is within easy reach of London, Heathrow and Gatwick airport. There is extensive parking nearby and many leisure facilities including a cinema, theatre and an array of restaurants and shopping centres.
Locations
Woking
Address
Tante Marie Limited 57-61 Commercial Way,
GU21 6HN
Woking
,
England
,
United Kingdom