Read more on the institution's website
The Digital Learning Company
BrainStation is the global leader in digital skills training, empowering students and professionals to succeed in the digital age.
BrainStation has worked with over 500 instructors from the most innovative companies, developing cutting-edge, real-world digital education that has empowered more than 100,000 students and professionals.
100,000+: Professionals Trained
500+: Industry Instructors
50+: Countries Represented
Why BrainStation?
World-class instructors: Our cutting-edge curriculum is developed and taught by the world's best digital experts and professionals.
A hands-on approach: Our classes offer a project-based learning environment, emphasizing collaboration, and immediate feedback.
Data-driven learning: Synapse, our custom-built, personalized learning platform provides an unrivaled learning experience.
An unmatched network: Gain access to a vibrant community of more than 100,000 professionals around the world.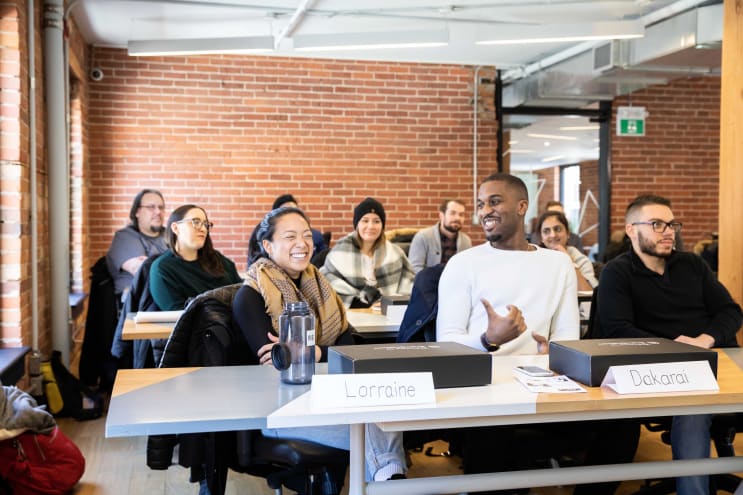 Cutting-Edge Digital Skills
BrainStation offers a full spectrum of cutting-edge digital learning, giving students the skills and real-world experience they need to thrive in the digital economy.
Disciplines
Data
Design
Development
Product
Marketing
Defining the Future of Digital Learning
Full-Spectrum Digital Skills: Premium skills training across the entire digital product lifecycle: data, design, development, marketing, and product management.
Designed by Industry Experts: Agile curriculum developed and updated with industry leaders from the most innovative companies.
Available Online or In-Person: Cutting-edge, instructor-led digital skills training, online or at state-of-the-art campuses around the world.
Scholarships
BrainStation offers a range of scholarships for individuals looking to pursue professional development or transform their careers. Please schedule a call with a BrainStation Learning Advisor to find out more about our scholarship program.
Please be advised: all scholarships must be approved and applied prior to enrollment in a BrainStation course or program.
Student Success Stories
BrainStation has empowered over 100,000 professionals around the world, helping them develop the digital skills they need to boost their careers.
"I wanted to start in a new country with a new career path, but I knew I needed to take a course to help augment my skills. With the knowledge I've acquired, I feel ready to take on the world of UX and solve complex problems affecting humans around the globe."

Mosope Adebowale, User Experience Designer at KPMG
Locations
New York
Address
503 Broadway
10012
New York
,
New York
,
USA
Toronto
Address
460 King St W
M5V 1K7
Toronto
,
Ontario
,
Canada
Vancouver
Address
455 Granville St
V6C 1T1
Vancouver
,
British Columbia
,
Canada