Read more on the institution's website
Your Success is Our Success
Central Wyoming College is a two-year college serving Fremont, Hot Springs, and Teton Counties. Our main campus is located in Riverton Wyoming and we have outreach centers in Lander, Jackson, and Dubois, each designed to meet the needs of the community it serves. We are committed to helping our students achieve success. At CWC you can earn a degree that takes you straight into the workforce or that can transfer to the college or university of your choice. We are here to support your educational journey- that is why you'll find yourself surrounded by faculty and staff who care that you have a great college experience. We can't wait for you to earn a degree that you are passionate about!

CWC Fast Facts
1,800+ Students
58% Fremont County residents
57% Female 43% Male
21 Median age
125+ academic scholarships
3 Outreach locations
5 Campus housing options
1+ Million awarded in scholarships
5 NJCAA Region 9 Athletic Teams We also provide life-long learning through community enrichment classes, professional development and adult education and career readiness. Additionally, the college is a cultural center for the region. With one of the finest visual and performing arts centers in the region, you'll find a full slate of cultural activities! See our events calendar for more! The college is also the home of Wyoming PBS, the state's only public broadcasting station.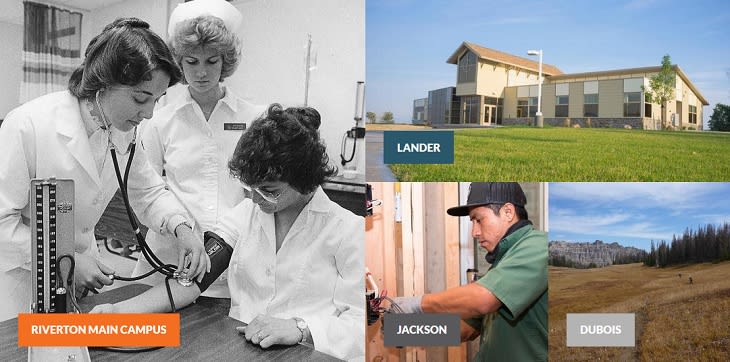 Locations
Riverton
Central Wyoming College
Address
2660 Peck Avenue
(307) 855 - 2000
(800) 735 - 8418
82501
Riverton
,
Wyoming
,
USA
Lander
Central Wyoming College
Address
120 Leedy Blvd.
(307) 332 - 3394
(800) 735 - 8394
82520
Lander
,
Wyoming
,
USA
Jackson
Central Wyoming College
Address
240 S. Glenwood St #124
P.O. Box 4795
(307) 733 - 7425
83001
Jackson
,
Wyoming
,
USA
Dubois
Central Wyoming College
Address
308 W. Ramshorn
P.O. Box 175
(307) 455 - 2625
82513
Dubois
,
Wyoming
,
USA
Programmes
Associate Degree
Associate of Applied Science
Associate of Science
This school also offers: